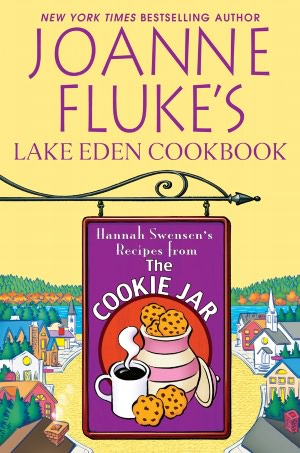 Joanne Fluke's Lake Eden Cookbook
This is my first time reviewing a cookbook and I couldn't do it without actually trying out some of the recipes first. This cookbook is mostly sweets and makes a lot so it would be great to do for group gatherings. In the index they do have them divided by types (appetizers, bar cookies, beverages, Bread & Muffins, Cakes & Cupcakes, candy, cookies, frostings & icings, other sweet treats, pies, quick and/or easy meals, salads, soups, and substitutions for some ingredients) and alphabetized. While this is titled a cookbook it does have a little story going on. It has sketches but no pictures.
Now, if you are, like me, trying to lose weight, this is NOT the cookbook for you. If you are looking to do more on the baking side of things and have a lot of get together's, this is the book for you. I especially like all the notes that the recipes have. It seems to make it more personal. Now I didn't try all of the recipes but the ones that I did try were very good. I'll have to try them again and post pictures of them at a later time. I would recommend this book to bakers, Joanne Fluke fans and anyone who likes cookbooks. I would actually give this book a 4.5 out of 5.